Massage Training Course Graduates Reviews & Testimonials
"I chose to learn Raynor Massage with Dave firstly because of the practical nature of the training and due to it being the shortest accredited course i could find. I liked Raynor massage's intuitive approach ands it's links with Shiatsu and Thai Massage (which I already had trained in). Joining the course felt like a big financial commitment but I took the plunge mainly due to Dave's willingness to talk the training through with me, taking time to listen to my concerns and answer my questions and he did not disappoint.
I went for full immersion with the week long residential in Devon and I'm really pleased I took that option. The course was hosted by a lovely couple who took good care of us all. Each day began with a fantastic yoga class and ended with us lolling around the fireplace or in the hot tub under the stars. Dave structured the course really well combining theory and practical classes. There was plenty of time for recaps, practice and questions and it was good to dedicate the time purely to the training in a lovely, peaceful, rural setting. The massage itself is very intuitive and I found I picked it up easily. I think this is a good course to take if you already have a flair for massage and want to acquire more structure and technique.
My massage practice has steadily built since and I have many returning customers. My clients feed back that they really enjoy the detailed work on the hands and feet and find the attention to the head very satisfying. They like that 'no two massages are ever the same'
The way Dave taught us to communicate (between client and practitioner) re. the pressure of the massage is also very clear and easy. All in all it's a great style of massage to learn and I only wish there was another Raynor practitioner near me so I could get a decent massage too."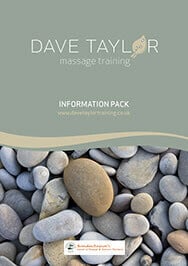 Find out more about Raynor Massage and our courses by requesting our free information pack
"I had the pleasure of attending the Dave Taylor Massage Training back in 2015 on his certificate course in Devon. The retreat setting was incredible. It meant that not only was I learning a new skill, I was also detoxifying my body and receiving healing for a week too. Practicing health and wellness whilst learning about it was so fulfilling. Dave is excellent at communication and made the learning experience accessible and easy to integrate. I was already practicing reflexology in London in that time and Raynor massage was the perfect string to add to my bow to complete the service that I offer my clients. Since then, I have gone on to provide massage in clinics in Chelsea, Clapham, Knightsbridge and Camden and have been able to travel with my work to places like Ibiza, New York and Switzerland. Dave's training took my work to the next level and I now even combine reflexology with Raynor massage and to quote my clients 'it's an incredibly unique and thorough treatment which feels amazing'. I look forward to learning more from Dave in the future."
"I flew in from The States to take Dave's class. After much research, my wife and I liked that the the Raynor method had a blended Asian technique while standing on it's own as an effective form if sports therapy.
To add to it, there is a segment focused on pregnancy massage. My wife is due soon and has been a happy customer since arriving back home in Boston. I look forward to the advanced course."
"I just wanted to say a huge thank you for the two week Raynor Deep Tissue Massage Diploma course in London that I attended in March. As a massage therapist I have been keen to come on this course for over a year now and it really is one of the best things I have done! I found the pace of the course was great and the material we covered has really filled in some gaps in my learning. The section about business was hugely appropriate for me too and a really important part of the training. I can honestly say, Dave that you gave me one of the best massages I have ever received during the course. I am really proud of the work I am already providing to my clients with my new found skills. Thank you so much and keep up the good work!"
"Well, where do I begin? It was an awesome weeks Raynor Massage training in London. Being able to receive the massage as well as practice on all of the students was brilliant! That method allowed me to practice on different types of bodies and all with different ailments. It was great to see the mega relief on some of the students and to hear they were feeling energised and in a positive frame of mind, which in turn increased day by day. If someone travels half way across the world and chooses to go out of their way to take this course (which several students did), then it should say a lot about the expertise and style that Dave brings to his training. It is sought after, because it is becoming one of the best recognised courses and it is a unique form of therapy specifically developed over many years by and now taught in London by an advanced therapist; Dave Taylor. It is an informative, PRACTICAL and slightly theoretical weeks training, but this is all about a hands on approach (literally) and letting the student have their first experience of working on a complete massage. We all felt different things, we were all on different levels of fitness…male, female…younger and more mature students…So this is truly for everyone out there. If you are thinking of a career change then this will be a life changer if you choose to let it happen. 100% recommending this course…You will love it!!"
"I learned so much at my Raynor Therapeutic Massage training alongside Dave Taylor in London. Being such a hands-on class, there is so much time to practice and also receive massage so even by the end of the 5-day diploma course I was feeling confident about taking on actual paying clients. As well as learning amazing massage techniques, from all different massage styles, I learned so much about the energetic and emotional body and how we store a lot of emotional tension in the body. It really was a life-changing course and felt incredible shifts within my own body during and after the course. I've been practicing here in California ever since I took the course in 2010. I work with athletes looking to heal sports injuries, people with insomnia, migraines, anxiety, depression and people just looking to destress. The great thing about Raynor therapeutic massage is that it really is for everyone and works holistically to look at the body as a whole, physically, energetically and spiritually, often healing aspects of ourselves that we didn't even know needed healed. I can't recommend this course enough. It will give you everything you need to become a practical yet intuitive healer and therapist."
"As a yoga teacher who loves to travel, I was looking for another string to my bow to offer me freedom and financial independence. I also wanted to develop a hands-on skill to complement my holistic, healing approach to yoga teaching and practice. Massage was the obvious inroad. It wasn't until I heard about Dave's Raynor Massage training course however (via The Retreat People Retreats) that I decided to take the leap.
The course was everything it promised to be and more. Challenging, yet in a relaxed and supportive environment, with practical, to-the-point instruction from ever-patient Dave, we grew from novices to professionals in just a few days (and made some amazing friends along the way!) I am now regularly giving massage treatments with full confidence in my ability to bring a safe, enjoyable and healing experience to whoever may come through my door.
Thank you Dave for sharing your skill with kindness, passion and a smile! ."
"The Raynor massage course and retreat was one of the best decisions I've made and is without doubt an amazing experience and totally challenging.
Dave Taylor has all the experience and knowledge to deliver with clarity and precise training skills to make you be confident and get to really understand the world of therapy and massaging. As well as technical theory and practical hands on massage practicing it all came together. I learnt so much in one week and got to meet some great people.
I was lucky enough to be selected to receive massage from Dave during the course. I've had a lot of massages both home and abroad but this was 'next level'. The energy and tension release was incredible & it left me feeling like new. He found tension I never thought I had. Now I can do the same thing with my clients, which has made them come back for re-visits.
I completed the training, got my Certificate and I've now set up a healing room in my house. I'm really enjoying this new adventure. it gives you total satisfaction to see people leaving feeling rejuvenated after their massage and I'm already receiving great reviews on my Facebook page."
"I trained with Dave over a fabulous few days in Devon. He taught with clarity, passion, warmth and humour. I left the training with such drive and confidence that within a couple of days I had set up a Facebook page and had a handful of client bookings. Since then, it has just got better and better! I am thoroughly enjoying my work as a Raynor Massage therapist and the positive feedback from my clients has been overwhelming. I shall never look back. Thank you Dave!"
"If you desire to change your life in few days, there is nothing easier and better decision than to go through Dave Taylor Massage Training. It is a wonderful experience & Dave is an impressive teacher at the same time. In five days you are on your way to your financial freedom while you help people to feel great in few hours. Raynor Therapy is highly powerful and effective, it deals with deep placed emotions, toxins placed in the body, loosen tensions in all the body.
This is not an ordinary massage, this is a real massage therapy. There are various reasons to take part in. You want to start your own business, you want to be independent, you just want to help your friends & your family to be as good as new? Don`t even think about it, it is what you are looking for. A lot of people suffers from pain in one`s back, neck, lower back, abdomen, hands, legs, head. One does not feel good because of the stress he/she goes through, because of the toxins placed in the body.
This is all placed in your body and causes tension and pain and the Raynor massage is able to release it all. I can not do anything than to recommend this awesome course. This is one of the most important things happened in my life. Dave thank you."
Lucy Johnston, Raynor Massage Diploma Course, London,
March 2105
"Being part of the Raynor Massage Therapist's family is a privilege. Knowing this amazing technique and making people feel better has changed my life.
I have practiced this form of massage since June, and I have already built a repeat client base. To the benefit of my clients, I have increased the strength of my hands and spirituality. I believe massage can solve not only the physical but the emotional too. I now have my own limited company established, Noor Sanctuary, with its own website through which appointments can be booked. With every client I begin with an initial consultation to careful identify the individuals reason for coming. I then work with them to create a tailor made programme suited to each specific person. I have already had lots of great feedback via my webpage. Being able to benefit other people in this way has been extremely rewarding for me."
Anikio Michnya – October 2015