Massage Training in Devon
Fast-Track Massage Training Retreat In Devon
We now offer our massage courses in a spectacular Devon retreat tucked away in the rolling countryside. This format allows you to learn massage away from all of life's usual distractions in a stress-free environment allowing you to take time and truly focus on yourself. Dave Taylor has teamed up with Lucy & Oliver from "The Retreat People" combining their passion for learning and living holistically to create this massage retreat.
A sneak peak of what to expect…shhh don't tell everyone, only 8 students per course to give you that little more personal attention! Book now!
Upcoming Devon Massage Retreat Dates
Included in the price:
Accommodation included
Shared same-sex rooms sleep up to 2 students
Arrival
Accomodation is also included for the night before course commence date
Food
All meals including nutritious snacks & drinks
Tuition
Raynor Massage Certificate & Diploma Course
Travelling to Natsley:
There are different transport options to get to Natsley Farm. The National Express Coach stops at neighbouring town, South Molton. You can also get the train to Barnstaple, which is a short taxi ride away. There are also plenty of parking spaces if you prefer to drive.
Fully Accredited Raynor Massage Certificate & Diploma Course Combined
The course being taught at the residential massage retreat in Devon is the full Raynor Massage Diploma. Normally this would be a 10 day course (with the first 5 days being the Certificate). However, with the luxury of longer days that the retreat environment offers it allows us to compress the training to 7 action packed hands-on days of learning. This qualification is fully accredited and will enable you to immediately get the necessary insurance required to work as a massage therapist.
An all-inclusive setting for one low price!
The massage training is held in Natsley Farm, a working farmhouse set within Exmoor National Park in Devon. The accommodation is fully equipped and finished to a high standard in a warm and homely way. Oliver from "The Retreat People" will be your Chef, preparing all the meals from fresh offering an exciting, nutritious menu. The bedrooms are both comfortable and spacious with no more than two students per room. After a day of learning you can take full advantage of the farmhouse's facilities, maybe taking a leisurely dip in the outdoor pool, relaxing in the log fuelled hot tub or playing pool.
Is the retreat environment suitable for you?
There are a few things I like to point out to people about the retreat before they fully commit.
As lovely as the retreat environment is, (and it really is lovely) please don't underestimate that its an intensive 7 days. So, with that in mind it's important that the students are physically well enough to take part in the training and mentally strong enough to deal with the retreat environment. Each day you will be required to give and receive massage so its important that you don't have any conditions or injuries that would prevent you from participating fully with this.
We also need students who can naturally fit into the retreat vibe. That means being ok with a shared bathroom, bedroom and dining table! Being understanding (and able to cope) if your roomie happens to be a snorer!
Oh and I bring my doggies to the Farmhouse so being dog friendly is a must!
An in-depth breakdown of each day of your combined course
Arrival at The Retreat
Students are invited to arrive at Natsley Farm from 6pm where a warm welcome and light supper awaits you. This allows you to get settled in ready for the training to commence the next morning.
Day 1 - Training begins
Your training begins and on the first morning we cover the following:
The history of massage throughout the ages.
The contraindications of massage. So this will cover the times when it's safe to massage and all the occasions when massage should be adapted or avoided all together.
How to take a full medical case history of your client.
Hygiene – How to follow essential hygiene routines.
Draping your client. The different methods used to cover your client correctly ensuring their privacy is protected at all times.
The INTA Professional Code of Conduct & professional ethics of Raynor Massage Therapists.
After lunch Dave Taylor will then demonstrate the Raynor Massage Technique on a volunteer student. This allows you to get to see the massage for the first time.
Dave will then give a very specific demonstration of hands and arms.
The students will then pair up and begin practising what they have been shown so far on each other, then swapping over. This means that all students will both give and receive massage. Dave will be on hand to guide you through this process.
Day 2 - Back of the body
In the morning we will address:
How important breath is when used with Raynor Massage.
The different therapeutic effects that massage can have.
A group focussed breathing exercise.
The Healing Crisis – How to prepare your client and yourself for this.
Dave will also discuss the Bands of Tension and the students will have a chance to explore these bands on each other.
After lunch there will be a further massage demonstration. Dave will go over everything from Day One and will also include new areas including the sacrum, back of legs, hips and gluteus.
Day 3 - Front of the body
In the morning we will address:
What is the duration of a Raynor Massage, how long should it last?
The different therapeutic effects that massage can have.
A group focussed breathing exercise.
What are the qualities that a massage therapist should have?
Abdominal massage and how this affects the digestive system.
There will be a group workshop showing how to massage the neck, face, jaw and scalp.
After lunch the main massage demonstration by Dave will include the front of the legs, stomach and also include the neck and head areas.
Then the students will pair up again and practise.
Day 4 - Side of the body and pregnancy
In the morning we will discuss:
How to deal with negative energy from clients
Different oils that can be used for massage and the qualities to look for when choosing a massage table.
We discuss pregnancy massage and how the techniques you have been taught can be adapted to safely massage someone through their pregnancy. We cover in great detail all the contraindications associated with pregnancy massage.
The morning workshop will be Pregnancy Massage and working the side of the body including a detailed hip release.
In the afternoon there will also be a longer one-way massage swap (so 4 students giving the massage whilst the other 4 receive without massaging that day)
Day 5 - Practise, Practise, Practise!
In the morning the students will complete the massage swap from the previous afternoon with them swapping roles.
This will be followed by a massage demonstration.
In the afternoon the students will get the opportunity to massage Dave where he can help you improve your technique.
In the evening there will be a discussion about how to market your new Massage Therapy business and get it up and running without delay.
Day 6 - Reflexology, stretching and aromatherapy
In the morning you will also be shown a series of stretches that you can use on your client whilst they are on the massage table. These stretches cover the full body and are particularly useful for those of you wishing to deal with sports injuries.
We will also discuss reflexology and the theories behind it. You will then be given a demonstration of reflexology and chance to work on each other.
The afternoon is all about aromatherapy, You will be introduced to a range of essential oils, learn about their individual properties and how to blend them correctly.
This evening it's possible that some students will be invited to massage a member of the public as their final assessment, We call this .Student Clinic' and there is more description on Day 7.
Day 7 - Student clinic
Student Clinic Day
On this last day of class you will be asked to give a complete massage whilst being assessed. This could be a fellow student or it could be a member of the public that you will be massaging. You will be assessed based on how well you understand:
Empathy
(unspoken communication, making a client feel comfortable, developing trust)
Focus and Attention (practitioner maintained focus throughout the treatment, acknowledged and addressed concerns of the client)
Professionalism
(client-centred care, confidentiality, proper draping, dress code, no inappropriate jokes or comments)
Hygiene
(short nails, appropriate washing of hands, clean towels and table, being aware of own body parts & perspiration/odour)
Pressure
(worked within the client's breathing/pain threshold, appropriate pressure for the client while still being effective, did not overwork an area)
Techniques
(applied Raynor Naturopathic Massage correctly)
Rhythm and Flow
(consistent and predictable movements, treatment was well integrated, did not feel rushed, finished massage on time)
Breathing
(explained the importance of the breath in massage, ensured client was deep breathing throughout the treatment)
Verbal Communication
(courteous, appropriate questions, informative explanation of what the practitioner is trying to achieve, limited unnecessary talk)
Overall Effect
(the massage provided benefit or relief to client)
We will be finished no later than 2pm on the last day and after passing your assessment, you will receive your Raynor Massage Therapy Diploma.
If you really 'are what you eat,' then inspiring students to explore healthier options and enjoy authentic, restorative, home-made meals, is certainly our priority.
Modern day living leaves us spoilt for choice and we are bombarded with quick-fix, highly processed foods that make us sluggish and often compromise our bodies most important but fragile systems. With a background in pop-up restaurants and coming from a family of head chefs, Oliver Walkers' passion for real food is infectious. Using local produce wherever possible and favouring super fresh, organic food, is a great way to pack a meal full of nutrients. Asked to share his secrets he says "Making home made meals from scratch and adopting a healthy love of 'whole foods' is an approach that your bodies and souls thank you for.
Obviously life is BUSY and sometimes all you need is a little inspiration to get creative in the kitchen again and to learn some quick tips and tricks to help you prepare ahead. Our retreats detox, re-charge and re-vitalise our students and even the vegan desserts are lovingly made by hand. Lend us your tastebuds and rejuvenate your souls in the stunning, peaceful, countryside of Exmoor National Park. Such a fantastic space to learn a new skill and embark upon a new career.
YOGA is also optional daily at The Retreat.
Our retreats are the perfect environment to try something new. Whether you're a flexy yogi, a slinky soul sister or a little bit stiff and locked up, Natsley Farm is the place to quite literally 'unwind.' Yoga flushes your organs and detoxifies your whole body, improving your flexibility and posture.
Yoga increases blood flow, it helps protects your spine, prevents joint and cartilage breakdown, betters bone health, drains your lymphs, boost immunity and this is just to name a few benefits. So please join us for morning yoga and see what all the fuss is about.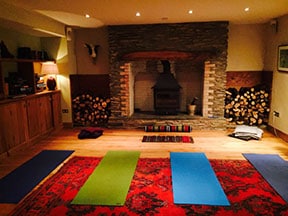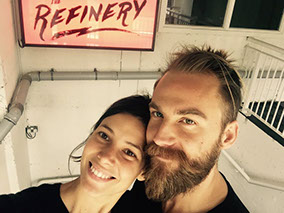 Oliver Walker from "The Retreat People" will be your host and chef throughout your stay.
Oliver Walker is one fabulous half and head chef @ The Retreat People. He and his wife Lucy B, run pop-up dining and wellness events, retreats and bnb experiences throughout europe, the U.K. + USA and Australia.
Oliver returns to the U.K. 3 times a year to run our Devon based Raynor Massage Retreat. Oliver's creations will surprise, tantalise and nourish your tastebuds and soul, taking you on an unexpected journey through the culinary possibilities of a plant based diet. Taking an occasional week off of meat is good for the body + planet, a little reset. Students find it works so well with the daily yoga, meditations and deep dive into health and well-being that comes naturally with this retreat environment.
Oliver and Lucy now reside in the French countryside with their family at their beautiful  bnb 'Maison Des Figuiers,' where you can expect the same amazing service, a restful stay, locally sourced inspiring food, massage, nature + yoga.
Click here
to find out more about 'The Retreat People'