Massage Courses in Dublin
Where to Find Us
It's easy to get to the rowing club. By car it's a direct route from Dublin City Centre that will only take 15 to 20 minutes. There is parking spaces available at the club. Many buses stop right outside the clubhouse. You can get the 25/26, 66/66A/66B and 67 all the way to the clubhouse getting off at stop number 2193.
I am delighted to be returning to Dublin in 2023 to teach the deep tissue massage training courses. The massage courses in Dublin will be held at the Commercial Rowing Club, based in Dublin 8 with it's truly stunning views over the river Liffey.
I will be offering both the Raynor Massage
Certificate
and
Diploma
Course. Let me tell you more about the these courses and our style of teaching massage. Our training really is hands-on. We don't believe that massage is best taught with students memorising information from books. Instead, we use traditional methods of teaching where you will get to watch massage demonstrations and then get to try it yourself. We feel it's really important to also get to feel the massage too. So every day you will be watching massage, receiving massage and of course giving massage. There is no requirement at all for students to study in-depth Anatomy and Physiology in order to learn how to massage safely to a highly professional standard.
No Prior Experience Necessary
All our courses are suitable for complete beginners. There is no need for any prior qualifications and there are no written exams. Instead you will be assessed and given feedback throughout the course. The course schedule has been carefully designed in a way that really helps build students confidence each day. We use revolutionary training methods that ensure you get to practice every day all the new techniques whilst repeating what you have learned on the precious days of the training course.
Taught By Dave Taylor
Dave Taylor will be teaching both the Certificate and Diploma course at the Commercial Rowing Club in Dublin. Dave was a student of these courses back in 2010. He came with no prior experience of massage and upon graduating promptly set up his own clinic in Sutton, Surrey. Dave now has two other therapists working with him in his clinic and is usually booked up months in advance with regular clients who really appreciate this particular style of deep tissue massage. Dave is not just some person who teaches massage. He is a working massage therapist and brings to you his day to day experience of treating clients using this amazing therapy. Not only that, but he is passionate about the business side of things teaches not only how to be a skilled massage therapist, but how to make it work financially so you can make this a brand new career.
Facilities At The Massage Training Venue in Dublin
We will be using the Riverview Function Room, which is ideally situated with gorgeous views over the river Liffey and weir at Islandbridge. Teas and coffees will be available throughout the day. There is a kitchen facility available with microwave and fridge with everything you need to store and prepare your packed lunch.
Upcoming Dublin Massage Dates
The Raynor Massage Certificate Course In Dublin
The 5 day Certificate course is ideal for those looking for an introduction to deep tissue massage. This hands-on approach to learning will give you good practical experience of deep tissue massage using the Raynor technique. The Certificate that you gain is recognised by the leading insurance companies. This means that all graduates will be able to get full professional indemnity cover with this qualification. Once you are covered by insurance then you can start massaging professionally. The Certificate course is also the ideal solution for those already familiar with body work, for example, Personal Trainers/Yoga Instructors and just need to formalise existing skills with a recognised qualification in massage.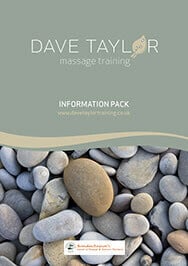 Find out more about Raynor Massage and our courses by requesting our free information pack